Information on Rolex Watches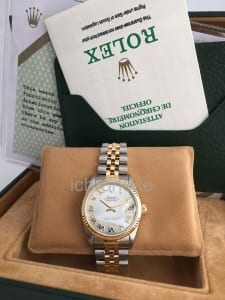 Rolex watches are possibly the most recognisable brand of luxury watch available in the world.
Here at ichrono Dublin we have a wide rage of preowned luxury Rolex watches in stock. In the many years we have been selling and servicing Rolex watches we have been asked many questions about them, including where they are made what models are available and so on.
Please see the Rolex FAQ below for more information.
Where are Rolex watches made?
They are made in Switzerland, using four different assembly plants.
Rolex watches are not cheap but are they worth it?
They are highly water resistant, durable and incredibly accurate throughout the entire model range. However the main reason to buy a Rolex watch is the prestige in owning one.
What watches are available in the Rolex collection?
The Rolex watch collection is targeted at many genres such as aviation watches, diving watches and motorsport watches. Not forgetting their classic watch range.
Rolex Daytona
Famously linked to the high-performance world of motor sport. The Rolex Oyster Perpetual Cosmograph Daytona comes in a wide range of styles
Rolex Day-Date
Worn by more presidents, leaders and visionaries than any other watch. Represents the ultimate in refinement and comfort.
Comes in 36mm and 40mm sizes
Rolex Submariner
Launched in 1953, the Rolex Oyster Perpetual Submariner is an iconic range of diving / sports watches which were developed for diving, The Rolex Submariner watch is known for it's water-resistance and for being corrosion resistant.
Rolex GMT Master II
The Oyster Perpetual GMT-Master II comes in Oystersteel with a Jubilee bracelet.
Rolex Deepsea
Ultra-resistant divers' watches engineered by Rolex for deep-sea exploration.
Rolex Sky Dweller
A beautiful watch featuring a dual time zone and an annual calendar.
Rolex Yacht-Master
The Yacht-Master symbolizes the strong ties between Rolex and the world of sailing.
Rolex Yacht-Master II
I'm at the gathering market this exquisite watch is highly water resistant and comes in a wide-ranging of models with some in oystersteel and everose gold as well as platinum on some models
Rolex Explorer
The Oyster Perpetual Explorer in Oystersteel features a distinctive black dial
Rolex Oyster Perpetual
Oyster Perpetual Professional : Rolex's range of strong purpose-driven sport watches.
Oyster Perpetual Classic : more formal yet still sporty and water resistant,
Rolex Milgauss
The name Milgauss comes from the French word mille, which means one-thousand, and gauss, the unit of a magnetic field
Rolex Datejust
First created in 1945 one of Rolex's most recognisable watches
Rolex Cellini
The Rolex Cellini collection takes its name from the famous Italian sculptor and Goldsmith, Benvenuto Cellini. The latest version of the watch feature a self winding mechanical movement and are water resistant up to 50 m. Previous versions of the watch do not have these features. The Rolex Celini has been worn by many famous people including Barrack Obama